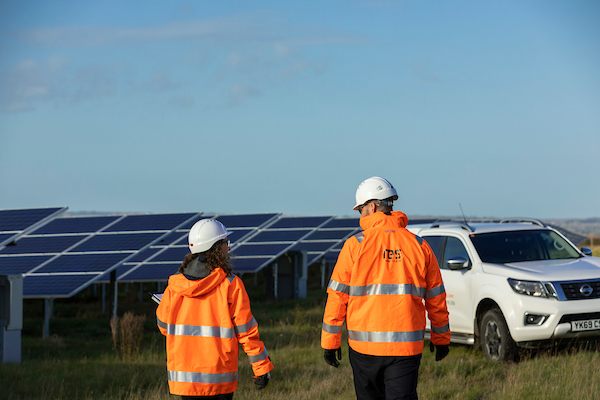 RES, the world's largest independent renewable energy company, has signed a new contract with Cero Generation (Cero), a leading European specialist in solar energy development, production, and storage, and Enso Energy (ENSO), to provide asset management for the UK's first transmission-connected solar farm. 
The contract will enable RES to manage Cero and Enso's Larks Green Solar Farm, a 49.9MW project in South Gloucestershire that was fully energized in May 2023. The first-of-its-kind project has the capability of powering the equivalent of more than 17,300 homes while displacing 20,500 tons of CO2 each year compared to traditional energy production and will form part of Cero's 11GW portfolio of utility-scale and on-site generation projects across Europe.  
The solar PV plant will be co-located with a 49.5MW / 99MWh battery energy storage system which will also connect to the transmission network, using the same connection point as the solar farm, making it the UK's first co-located solar and battery storage project to feed electricity directly into the transmission system. 
Further positive environmental impact will be delivered by the design and layout for the co-located solar farm and BESS, which will produce a net biodiversity gain, achieved through the provision of a range of resources for local wildlife, including additional woodland planting, that will provide shelter and food for a range of protected species.  
As well as being awarded the full asset management agreement, comprising the technical, commercial and financial elements, RES will also provide grid code Balancing Mechanism services via its 24/7/365 Control Room located in Glasgow.  
Darren Cook, Asset Management Director at RES, commented: "It's always exciting to work with a new client to develop a trusted partnership and forge ahead with a solar farm project that is contributing to the UK's net zero future. We are looking forward to working with Marta and the team at Cero Generation to utilise our suite of in-house expertise to provide full asset management now the site is operational." 
Marta Sanchez Lopez, Portfolio Director at Cero Generation, added: "We are thrilled to have someone as highly regarded as RES on board to manage Larks Green Solar Farm. We have been impressed by their capabilities so far and look forward to the relationship progressing as the project evolves. It's an extremely exciting milestone for Cero and the UK's net zero transition, as connecting solar power directly to the transmission network allows clean energy to be transported over greater distances and reopens a gateway for larger projects to connect to the grid." 
Ian Harding, Co-Founder and Director at Enso Energy, said: "It is great to have developed the Lark's Green project from inception, through development, into construction and now into full operation, delivering clean, renewable energy to the UK.  Having such a reputable asset management company like RES now join us to optimise the ongoing operation of the Lark's Green site, means that we can now concentrate on the development and build of the next sites in our portfolio. We look forward to working with RES at Lark's Green, and learning from RES's expertise in asset management as we deliver our next renewable connections and continue to actively help deliver net zero."   
RES is the world's largest independent renewable energy company active in onshore and offshore wind, solar, energy storage and transmission and distribution. At the forefront of the industry for over 40 years, RES has delivered more than 23GW of renewable energy projects across the globe and supports an operational asset portfolio exceeding 12GW worldwide for a large client base.  Understanding the unique needs of corporate clients, RES has secured over 1.5GW of corporate power purchase agreements (PPAs) enabling access to energy at the lowest cost. RES employs over 2,500 people and is active in 14 countries. For further information about RES, visit www.res-group.com 
Cero Generation is a leading specialist in solar energy development, production and storage, accelerating the delivery of a net-zero future across Europe.  
Powered by an experienced team that brings world-class industry, commercial, engineering and environmental expertise to its projects, Cero is active through every stage of the lifecycle, from planning and construction to operation. It works closely with local development partners, suppliers and stakeholders to deliver high-impact projects that positively benefit the environment and community.   
Cero is an independent portfolio company of Macquarie Asset Management's Green Investment Group (GIG), operating on a stand-alone basis.   
Enso Energy is one of the UK's most experienced renewable energy developers, focused on developing renewable energy sites that drive the transition to net zero. 
Enso's team of experts have a deep understanding of the energy industry and how to meet the requirements of a fast-moving sector.  With a background in large-scale renewable energy, the team have delivered over 1.2GW of renewable energy and storage projects since 2019. 
Enso Energy believes that it is only with the support of the people most affected by renewable energy development that we can keep the lights on.  That is why Enso's expert team is honest, considerate and diligent, with an ambition to use the latest solar and battery technology to make a positive impact on the country and the communities it works in. 
CONTACT FOR FURTHER INFORMATION:  
Share this article
Related Services
Asset Management
Read more
Related technologies
Solar
Read more